God sent His only Son to teach us the way to eternal life.
Jesus Christ tells us the following things, which are recorded in the Bible.
"… I came down from heaven, not to do mine own will, but the will of him that sent me." John 6:38
"… And he said unto them, I must preach the kingdom of God to other cities also: for therefore am I sent." Luke 4:41-43
"… I ascend unto my Father, and your Father; and to my God, and your God." John 20:17
Jesus Christ did not claim to be equal with Almighty God. Instead, Jesus acknowledged His Father as the Supreme Being, and requires his disciples to recognize God in the same way.
"He that loveth me not keepeth not my sayings: and the word which ye hear is not mine, but the Father's which sent me." John 14:24
"Ye have heard how I said unto you, I go away, and come again unto you. If ye loved me, ye would rejoice, because I said, I go unto the Father: for my Father is greater than I." John 14:28
It is extremely important to understand who God is and who God's Son is, so that you know who you worship. Many pagan rituals are taught to each new generation, and our generation is no exception. Although the trinity has become the basis for much of Christendom's teaching, the word trinity and the teaching of it is not part of the teachings in the Holy Bible.
Jesus Christ makes it clear that he is the Son of God. He tells us that His Father in heaven sent him to Earth be the Christ (Messiah) and savior of mankind. The Bible says: "Who is a liar but he that denieth that Jesus is the Christ? He is antichrist, that denieth the Father and the Son. Whosoever denieth the Son, the same hath not the Father: he that acknowledgeth the Son hath the Father also. Let that therefore abide in you, which ye have heard from the beginning. If that which ye have heard from the beginning shall remain in you, ye also shall continue in the Son, and in the Father. And this is the promise that he hath promised us, even eternal life." 1 John 2:22-25
Father and the Son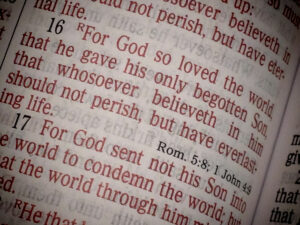 John 6:38-40, 46
Jesus did His Father's will, not his own will.
John 20:17
Almighty God is the Father of Jesus. Also, see John 6:62; Jesus went back to heaven where he was before.
Luke 4:33-34, 41-43
Almighty God sent Jesus.
John 14:24, 28
Jesus was sent by God and does not claim to be His equal.
Matthew 3:16-17
Almighty God YHWH (Yahweh)/Jehovah was in heaven while Jesus was on earth.
Revelation 3:14
Jesus became the Christ (Messiah) and was the beginning of God's creation.
Contact Us for help and discussion on this topic.